There are many different options for
car seat covers
. They can be made from many different materials and even come in different colors. These can be anything from camouflage to velvet to sheepskin.
Seat covers are designed to provide comfort and durability while protecting your seat. They also add a touch of country style to your vehicle. These car seat covers are available in a variety of styles, colors and patterns. The material is durable enough to handle moderate abuse and is easy to clean.
Custom Seat Covers offer an affordable option for those who want a durable seat cover. These custom car covers feature custom corners, double stitching, and color-matched threads. Their heavy duty polyester fabric is sun and mildew resistant.
Another benefit of these seat covers is the ease of installation. Simply slide the latch through the hole in the back of the cover to secure the cover to your seat.
Saddle blankets are a traditional material that was originally worn over the back of a horse. Today, these seat covers are a great choice for vehicles that require a lot of driving time.
Saddle blanket seat covers are available in many different colors and designs. Choosing a unique design for your car or truck will give your vehicle a unique look. Plus, these car seat covers will protect your seats from spills and dirt.
Originally designed to secure a horse under the saddle, these seat covers have become a popular choice among truck owners. You can find them in a variety of colors and patterns, including some designed specifically for Wranglers.
Velor Car Seat Covers will give your car the luxurious touch it needs. It offers a plush, durable finish while also providing rugged protection from the elements. Choose from solid or two-tone designs to suit your personal taste.
These covers protect from sun, rain and abrasion. They can also be easily washed. The cover is double-stitched to help it retain its shape. Plus, they are machine washable for easy cleaning.
Much of the fabric used in these covers is breathable. This helps keep you cool on hot days while maintaining a comfortable ride.
Another material is neoprene. Neoprene is a synthetic rubber that is water, UV and chemical resistant. Combined with a polyester backing, it offers 100% water and stain resistance.
Then there's the choice of leather. Genuine leather is a durable material with a rich look and feel, as well as a pleasant smell. Depending on the quality of the material, you may find that it breathes well.
Mesh and saddle blanket seat covers are another great material for hot weather. The tightly woven fabric makes these types of covers waterproof. Therefore, they are an excellent choice for long-distance travel.
Finally, if you're looking for something durable but still comfortable, consider a cotton blend. Cotton is a machine washable natural fiber. If you're looking for something tougher but still machine washable, consider sheepskin.
Sheepskin car seat covers are an important part of protecting leather upholstery. It also provides maximum comfort. Plus, it helps you avoid overheating, especially on long journeys.
Sheepskin car seat covers are made from natural and synthetic materials. These are designed to fit most standard seats. They have a soft fabric backing and foam cushioning. Also, they come in different styles and colors.
If you're looking to buy a sheepskin car seat cover, choose the one that matches your personal preferences. You can choose from a variety of options, including classic sheepskin, high-back styles, low-back styles, and faux suede. Alternatively, you can have a custom sheepskin seat cover.
One of the great things about sheepskin car seat covers is that they give you an elegant, luxurious look. However, they are also easy to maintain. In addition to keeping your seats warm and comfortable, they can also help you avoid a lot of skin irritations.
Another reason sheepskin seat covers are great is that they are washable. To remove stains, you can use mild dish soap and a little water. And, if you want to clean the entire cover, you can hand wash or use a machine wash.
However, it is important to know that a certain level of maintenance is required. If you don't take good care of your seat, it will sag over time.
Whether you're a hunter, outdoor enthusiast, or just an avid driver, camouflage car seat covers are a great way to bring the outdoors into your car. The camouflage pattern is beautifully designed and offers you the best protection from spills, stains and damage.
For a more breathable fabric, choose mesh. This type of seat cover is perfect for hot weather. The fabric allows air to circulate freely and protects against harmful UV rays. Some mesh seats may even include headrests and armrests.
Another option is a neoprene seat cover. This is the same material used for waterproof neoprene jackets. Neoprene is not vinyl, so it is resistant to oil and food.
Digital camouflage is another option, and it's a great option if you're looking for a unique way to dress up your vehicle. These covers come in many different shades of green and black. They're designed to keep dirt from clogging your interior and maintain your car's pristine look.
Choosing the right camouflage seat cover depends on your preferred material and color. While some are designed for a specific model of vehicle, others are universal and can be purchased for almost any make and model.
In addition to car seat covers, PIC also produces steering wheel shift paddles and car neck pillows. They can be purchased online through their website. You can learn more about their products through their instructional videos.
Mesh seat covers are available in a choice of two-tone colors for optimum protection and comfort. The lid has a non-slip backing and a mesh design that allows air circulation. Its material is also waterproof, preventing pets and children from slipping.
Car Seat Cover Complete is the perfect fit for any universal seat cover. This offering includes black, gray and beige seat covers and five removable headrest covers.
The seat cover is designed to fit most full size vehicles. It comes with multiple buckles and elastic for a secure hold.
The mesh seat cover fits snugly and offers protection against fading, tearing and stains. The design is sleek and modern, and the zipper opening allows for easy reinsertion of the headrest.
There are a variety of car seat covers to choose from. Most are designed to protect your seats from scratches and scuffs. Some of these are designed to improve the appearance of your ride. You can use leather, synthetic material or even fabric. Some of them are a little cheaper than others.
For example, you can get custom seat covers to fit your specific make and model of vehicle. They come in a variety of colors and patterns, and in a variety of fabrics. The most expensive ones are usually made of leather. However, many manufacturers have moved to synthetic materials, which offer better longevity and durability. They are also easier to clean and reinstall.
Another type of cover is the shower cap style. This one has an elastic edge to fit your child's head and body. This is a great option if you want to keep your kids from banging their heads on the steering wheel. It's also a great way to protect your original seats.
Finally, there is the universal seat cover. These extend over your existing seat to provide the same protection. While you can't really call them gimmicky, they do the trick.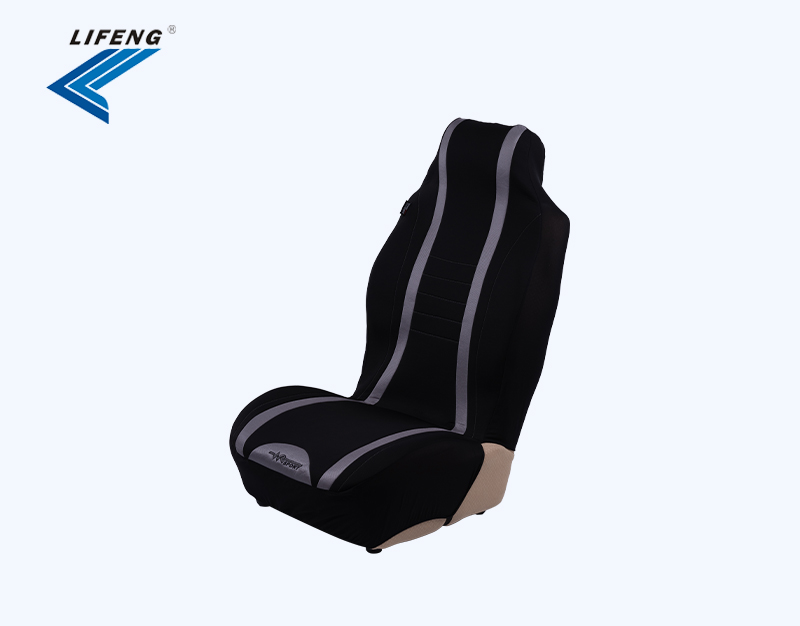 Custom printed Polyester car cover, waterproof, against dust, UV, snow and rain
Product Name:Car Seat Cover
Equipment:PVC + PP COTTON
Item No:06LF06
MOQ:200
Package:
A: PVC bag and insert card package.
B: 100% nylon bag package
C: Nylon and PVC bag package